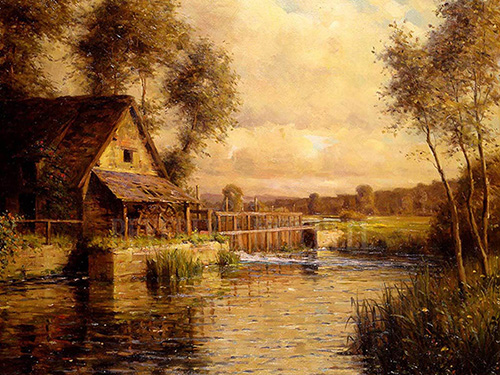 As the last wain in the slaver's caravan crosses the Anduin, the fate of the captives is sealed. At the mercy of her enemies and the delusions of her own mind, Goldwyn resolves to kindle her hatred into a burning passion, even if it means spurning those who might truly care for her.
Meanwhile, twins Elfhild and Elffled and the three sons of Goldwyn - Fródwine, Frumgár and Fritha - journey through Anórien, though the courses which they take vary greatly. Danger lies everywhere, but what about friends unlooked-for?
Violence and explicit scenes in some chapters.
For mature readers only.
What do you think of the story?
Post comments to The Circles Discussion Forum.

Chapter 1 - Perceptions (3/25/08)


Chapter 2 - Life Is Wonderful! (5/12/08)


Chapter 3 - The Search for the Sublime Elixir (8/17/08)


Chapter 4 - Summer Storm (9/23/08)


Chapter 5 - The Miniature of Galwen (11/19/08)


Chapter 6 - The Broken Wheel (12/26/08)


Chapter 7 - Picnics and Prejudices (1/5/09)


Chapter 8 - Cruel Teachers and Harsh Lessons (3/25/09)


Chapter 9 - The Lesson Continues (5/8/09)


Chapter 10 - The Flagellants (7/25/09)


Chapter 11 - The Juice Harp (8/16/09)


Chapter 12 - The Limekiln (9/22/09)


Chapter 13 - The People of the Watch-stones (10/6/09)


Chapter 14 - The Randrric Caravan (10/31/09)


Chapter 15 - How I Joined the Randirrim (11/14/09)


Chapter 16 - On Becoming a Man (12/13/09)


Chapter 17 - The Mare (12/21/09)


Chapter 18 - A Randirric Wedding (1/1/10)


Chapter 19 - Mysteries of the Crystal (1/17/10)


Chapter 20 - The Wheel of Fate (2/7/10)


Chapter 21 - A Vision of Dread (2/24/10)


Chapter 22 - Catalyst of Tragedy (3/8/10)


Chapter 23 - Sad Endings (3/15/10)


Chapter 24 - Neithan and the Drúedain (3/25/10)


Chapter 25 - Hunger of the Heart (4/10/10)


Chapter 26 - The Jealous Lover (4/25/10)


Chapter 27 - Crimes of Passion (5/9/10)


Chapter 28 - A Midsummer Eve's Dream (5/24/10)


Chapter 29 - My Beloved Dwimmerlaik (6/20/10)


Chapter 30 - The Divine Voyeur (7/18/10)


Chapter 31 - The Undead Suitor (7/18/10)


Chapter 32 - The Wide Blue Sea (8/13/10)


Chapter 33 - The Threat That Waits (8/27/10)


Chapter 34 - An Unexpected Enemy (9/13/10)


Chapter 35 - Aid Unlooked-for (9/25/10)


Chapter 36 - A Home in the Forest (10/6/10)


Chapter 37 - Confrontation With Evil (10/31/10)


Chapter 38 - The Delicate Orc (12/7/10)


Chapter 39 - Ambush in the Forest (1/9/11)


Chapter 40 - The Hunters and the Prey (1/17/11)


Chapter 41 - Tender Lambs Among the Wolves (1/29/11)


Chapter 42 - A Book Closes... (2/6/11)