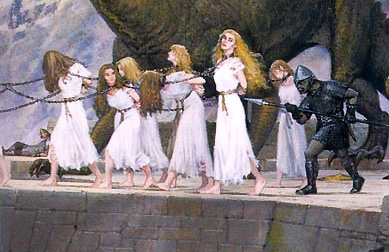 After arriving at the ruins of Minas Tirith, the captives are handed over to a group of Haradric slavers, led by Esarhaddon uHuzziya, one of the owners of a slave trading business in Nurn. A man of might and mastery, this handsome, rakish Southron symbolizes everything that the Rohirric women dread.
Orphaned, their land destroyed, Elfhild and Elffled struggle to remain defiant against their foes, even when faced with ghastly reminders of the enemy's might. Goldwyn, stern and proud, refuses to surrender to despair like so many others have done.
Each step on this journey of sorrow takes the Rohirric captives closer to Mordor, the Land of Shadows from which there is no return. Is there any hope of escape, or is slavery to be their doom?
Violence and explicit scenes in some chapters.
For mature readers only.
What do you think of the story?
Post comments to The Circles Discussion Forum.

Chapter 1 - So White the Simbelmynë (3/31/06)


Chapter 2 - A City Lost and Dead (4/5/06)


Chapter 3 - An Inspection (4/15/06)


Chapter 4 - Red Fell the Dew Like Tears (4/23/06)


Chapter 5 - The Unquiet Field (5/1/06)


Chapter 6 - The Clerk (5/8/06)


Chapter 7 - A Band of Iron (5/15/06)


Chapter 8 - The Cobbler (5/22/06)


Chapter 9 - A Lesson in Business (6/5/06)


Chapter 10 - An Unwelcomed Edict (6/12/06)


Chapter 11 - Comforts and Concerns (6/21/06)


Chapter 12 - Desperate Measures (7/3/06)


Chapter 13 - Rohirric Roses Among the Thorns (7/10/06)


Chapter 14 - Sunset on Osgiliath (7/24/06)


Chapter 15 - A Stroll in the Ruins (7/31/06)


Chapter 16 - A Glorious Folly (8/5/06)


Chapter 17 - To Rouse the Appetite (8/19/06)


Chapter 18 - A Tempting Dish (8/27/06)


Chapter 19 - The Sweetest Dessert (9/9/06)


Chapter 20 - Not Without Honor (9/16/06)


Chapter 21 - Will We Ever Meet Again? (9/23/06)


Chapter 22 - Flight Through Osgiliath (10/6/06)


Chapter 23 - Racing Towards Freedom (10/13/06)