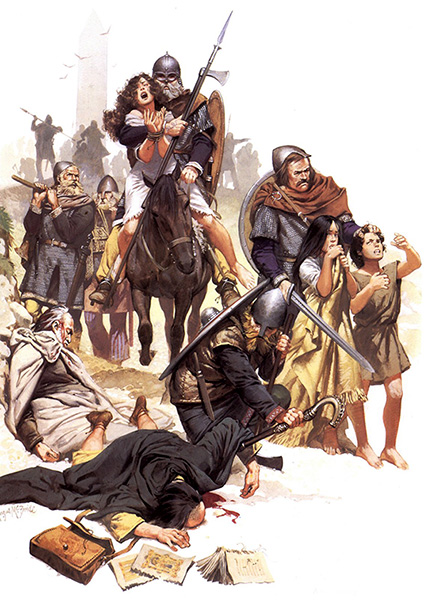 The West loses the War of the Ring and the proud city of Minas Tirith falls to the forces of the Dark Lord. In these days of darkness and fear, two young maidens, twins Elfhild and Elffled, are captured by orcs in a preliminary raid against Rohan. Herded off with other captives, the sisters know little of their destination, only that they are being driven ever East towards Mordor, the dreadful land of horror and shadows. Their world destroyed, their fate uncertain, they face the bleak prospects of slavery at the hands of their enemies.
The armies of Mordor, driven ceaselessly by their masters, march ever onward towards the West. The Dark Lord Sauron sits upon his black throne, eagerly anticipating the final victory as he watches history unfold through the palantír.
With Gondor fallen, will Rohan be conquered at last... and then the rest of Middle-earth?
Violence and explicit scenes in some chapters.
For mature readers only.
What do you think of the story?
Post comments to The Circles Discussion Forum or email Elfhild.

Chapter 1 - News From the King (5/14/05)


Chapter 2 - The Muster of Rohan (5/16/05)


Chapter 3 - Days With No Dawn (5/19/05)


Chapter 4 - The Clouds of War (5/19/05)


Chapter 5 - Raiders in The Night (5/23/05)


Chapter 6 - The Bitter Cost of Strife (5/26/05)


Chapter 7 - East Away (6/2/05)


Chapter 8 - A Crimson Stain in the Hallowed Wood (6/11/05)


Chapter 9 - The Conquering Army (6/26/05)


Chapter 10 - Mysteries and Promises (7/7/05)


Chapter 11 - All Things Forbidden (7/10/05)


Chapter 12 - Of Valor and Sorrow (7/17/05)


Chapter 13 - The Men of Darkness (7/18/05)


Chapter 14 - Three Honeyed Kisses (7/19/05)


Chapter 15 - Knives in the Flames (7/28/05)


Chapter 16 - Dreams of Blue Eyes (7/29/05)


Chapter 17 - Sweet Temptations (8/2/05)


Chapter 18 - Lórien's Gifts (8/8/05)


Chapter 19 - A Memory by the Wayside (8/14/05)


Chapter 20 - Dreams of Conquest (8/18/05)


Chapter 21 - The Dance of Blood and Death (8/18/05)


Chapter 22 - Riders of the Winds (8/25/05)


Chapter 23 - Promotions (8/31/05)


Chapter 24 - Battle of Fire (9/2/05)


Chapter 25 - A View Into the Palantír (9/10/05)


Chapter 26 - Wings of Death (9/21/05)


Chapter 27 - Field of Defeat (10/2/05)


Chapter 28 - Treachery Rewarded (10/8/05)


Chapter 29 - The Eyes of the Dark Lord (10/16/05)


Chapter 30 - Úmarth en Aran Morgul (10/23/05)


Chapter 31 - Mistress of the Eastern Wind (11/3/05)


Chapter 32 - "Bring to My Remembrance Tol Sirion..." (11/8/05)


Chapter 33 - A Gift Spurned (11/10/05)


Chapter 34 - Innocence Lost in Almaren (11/12/05)


Chapter 35 - The Flame and the Wind (12/1/05)


Chapter 36 - Those Doomed to Die (12/12/05)


Chapter 37 - Those Doomed to Live (12/30/05)


Chapter 38 - Those Doomed to Love (1/9/06)


Chapter 39 - And He Gathered Them Unto Himself (1/28/06)


Chapter 40 - The Conquest of the Ninth Ring (2/12/06)


Chapter 41 - Ruins and Ashes (2/20/06)


Chapter 42 - Requiem for Heroes (3/3/06)


Chapter 43 - Silence in the Dark Tower (3/11/06)